Note: These links are posted at the top of the page as the week progresses. Links from previous weeks can be found under the "Current Quicklinx" button above. If you have a link you would like to share, please put it into a comment.
The Assassins – by Dean Henderson – (Excerpted from Chapter 3: The House of Saud & JP Morgan: from Henderson's Big Oil & Their Bankers in the Persian Gulf: Four Horsemen, Eight Families & Their Global Intelligence, Narcotics & Terror Network) – https://hendersonlefthook.wordpress.com/2019/10/27/the-assassins/ – "During WWII the Palestine-based Grand Mufti went to Germany as a Muslim Brotherhood representative to recruit an international SS division of Arab Nazis.  Based in Croatia, the group was known as Handzar Muslim Division.. After the war, British Intelligence hired these fugitives and sent them to Egypt with help from the French.  Later these "assets" were literally sold to the CIA, who saw them as a counterweight to Arab nationalists such as Egyptian President Gamel Nasser, who soon banned the Brotherhood from Egypt.  During the 1950s the CIA evacuated them to Saudi Arabia, where they launched madrasses which taught a combination of Nazism and Wahhabism… One prominent teacher, Dr. Abdullah Azzam, taught Osama bin Laden.  Wahhabism has been condemned as heresy by Muslim countries more than 60 times.  It is only practiced in Saudi Arabia and by the Afghan Taliban." – This is an example of Dean's in-depth research into the seamy underbelly of modern governments and social orgnizations. I will be presenting more of his work in coming weeks.
Important Article: With Little Fanfare, William Barr Formally Announces Orwellian Pre-Crime Program – A recent memorandum authored by Attorney General William Barr announced a new "pre-crime" program inspired by "War on Terror" tactics and is set to be implemented next year – by Whitney Webb – https://www.mintpressnews.com/william-barr-formally-announces-orwellian-pre-crime-program/262504/ – "Perhaps the most jarring aspect of the memorandum is Barr's frank admission that many of the "early engagement" tactics that the new program would utilize were "born of the posture we adopted with respect to terrorist threats." In other words, the foundation for many of the policies utilized following the post-9/11 "war on terror" are also the foundation for the "early engagement" tactics that Barr seeks to use to identify potential criminals as part of this new policy. Though those "war on terror" policies have largely targeted individuals abroad, Barr's memorandum makes it clear that some of those same controversial tactics will soon be used domestically." – Comment: I think these new policies reflect the official corporate government world view of the American population being the actual enemy.
From the Comedy-Change Desk: 'Climate Change Trans Counselling' by Will Franken (inspired by Greta Thunberg)(24 min)
January Brexit Extension Increases Chance Of No Deal – by Mike Shedlock – https://www.zerohedge.com/geopolitical/january-brexit-extension-increases-chance-no-deal –  "In the misguided belief that extension after extension increases the chance of remaining, the alleged "Stop No Deal" crowd actually increase the odds of No Deal… I have made that case before, and Eurintelligence (a Remain supporter), laid out a point-by-point scenario this morning."
Russian MoD says US protects oil smugglers in Syria, offers aerial images as proof – https://www.rt.com/news/471891-syria-oil-smuggling-images/ – "On Saturday, the Russian Defense Ministry published aerial images of what it said is clear proof of Syrian crude oil being massively smuggled outside of the country 'under the strong protection of the US.'.. The black and white images are said to show scores of tanker trucks, supposedly loaded with crude oil, scattered in the oil-rich northeastern province of Deir ez-Zor. Dozens of trucks were spotted near the Daman oil-gathering facility, 42km east of the city of Deir ez-Zor, as well as near Mayadin."
SDF Repels Turkish Attacks Around Tell Abyad, Kills Several Militants – https://southfront.org/sdf-repels-turkish-led-attacks-around-tell-abyad-kills-several-militants/ – "Initially, Turkish-backed militants … captured positions inside the villages of Afdako, Kfifah and Abu Kharzah. However, the SDF managed to push them back… 'Our forces struck Turkish occupation mercenaries in Kfifah from two directions, which caused panic among the mercenaries,' a source in the SDF told the Hawar News Agency (ANHA)… According to the ANHA, SDF fighters killed at least 18 militants. Two vehicles of the Turkish military, which were reportedly supporting the attacks, were also destroyed by Kurdish forces."
Bolivia Elections: 'We'll Launch a Coup if Evo Wins' – by: Cindy Forster – https://www.telesurenglish.net/opinion/Bolivia-Elections-Well-Launch-a-Coup-if-Evo-Wins-20191020-0005.html – "The U.S. embassy is always fighting the old race wars, but its ambitions are larger. Bolivia's MAS is widely admired for its extraordinary economic skill, and for its courage in international arenas where Bolivian leadership has challenged the world to achieve peace, to reverse climate change, to honor the planet, its waters and of course its original peoples, to abolish borders, to dismantle U.S. hegemony, and to forge a coherent challenge to neoliberal thinking and practice… The U.S. has staged coups with much less reason, and president Evo Morales reports that such coup plans are in progress according to "information gathered from so-called civic committees in Cochabamba and in La Paz, that involve former or inactive-duty military men, as well as some members of the Santa Cruz civic committee. They have been meeting. I have recordings of their conversations, they are preparing and saying: 'We'll launch the coup d'etat if Evo wins'."
From the ROFLOL Desk: Trump Leaves Syria, but bombs Yemen? (11 min) – by the Hypocrite Twins
U.S. Is Looting Syrian Oil Fields To Fund Mercenaries And Intelligence Operations – https://southfront.org/u-s-is-looting-syrian-oil-fields-to-fund-mercenaries-and-intelligence-operations/ – (Whole text): "On October 26, the Russian Defense Ministry released an official statement on the situation with Syrian oil fields on the eastern bank of the Euphrates (source):
Russian Defence Ministry comments on the statement of the head of the Pentagon on the retention of the US military personnel group in Eastern Syria, allegedly "to prevent Islamic State access to oil fields"
A statement by the head of the Pentagon, M. Esper, about a certain need to retain a group of American troops in Eastern Syria "to protect the oil fields" from "Islamic State terrorists" should not be bewildering.
Absolutely all hydrocarbon accumulations and other mineral resources located on the territory of the Syrian Arab Republic do not belong to the IS terrorists, and definitely not to the "American defenders from IS terrorists", but exclusively to the Syrian Arab Republic.
Neither in international law, nor in American law itself — there has never been and there will never be a single legitimate task for the American troops — to protect and defend the hydrocarbon accumulations of Syria from Syria itself and its people.
Therefore, what Washington is doing now, the seizure and armed control of oil fields in Eastern Syria, is, put it simply, an international state banditry.
The real reason for this illegal US activity in Syria lies far from Washington's proclaimed ideals of freedom and counter-terrorism slogans.
According to the presented images of the space intelligence of the Russian Defence Ministry, Syrian oil before and after the defeat of the IS terrorists on right bank of the Euphrates, under the reliable protection of the US military, was actively extracted and massively sent by fuel trucks for refining outside Syria.
At the same time, Washington officially announced sanctions for the supply of petroleum products to Syria, which apply not only to American companies, but also any others.
Under the protection of American military personnel and American PMC groups, fuel trucks from the oil fields of Eastern Syria are being smuggled to other states. In case of an attack on such a caravan, special operations forces and US military aviation are immediately involved to protect it.
By the way, oil production itself is carried out using equipment provided by leading Western corporations bypassing all American sanctions.
The oil exportation contract is implemented by the US-controlled company «Sedkab», created under the so-called Autonomous Administration of Eastern Syria. And the income from the smuggling of Syrian oil through the brokerage companies interacting with it goes to the numbered account of American PMCs and the US intelligence agencies.
Given that the cost of one barrel of Syrian smuggled oil is 38 US dollars, the monthly revenue of this "private business" of American public services exceeds 30 million US dollars.
For such a continuous financial flow, free from control and taxes of the American state, the Pentagon and Langley leadership will be ready to guard and defend oil wells in Syria from the mythical "hidden cells of the IS" forever»."
The DOJ's Russiagate Probe Just Turned Into A Criminal Investigation – w/priceless video of James Clapper being interviewed by the CIA's Anderson Cooper… https://www.zerohedge.com/political/doj-russiagate-probe-just-turned-criminal-investigation-nyt – "What began as an administrative review by the Justice Department into the origins of Russiagate has "shifted" to a criminal inquiry, according to the New York Times, citing two people familiar with the matter… The move will allow prosecutor John H Durham the power to subpoena documents and witnesses, to impanel a grand jury, and to file criminal charges. Durham's progress has been closely monitored by Attorney General William Barr, who appointed the veteran investigator in May, tasking him with looking into FBI and CIA intelligence gathering operations surrounding the 2016 U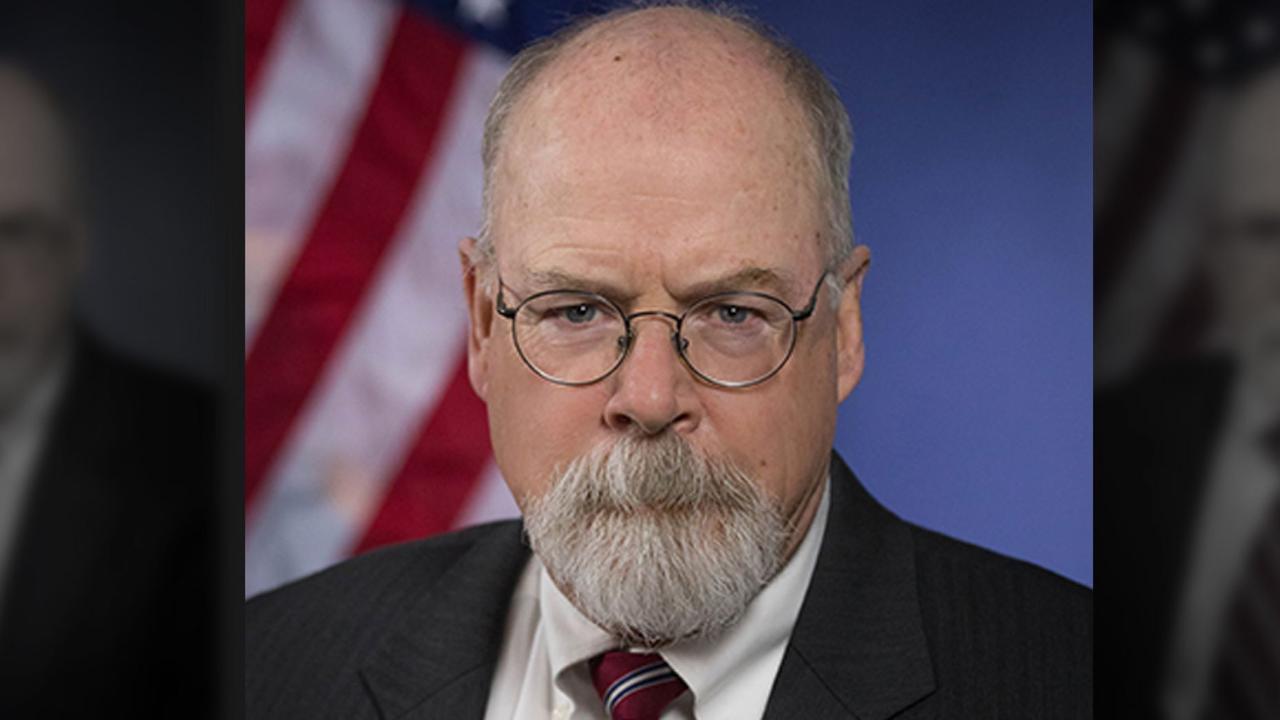 S election.
US Attorney John Durham
As the Daily Caller's Chuck Ross notes, Barr said on April 10 that he believed "spying" had taken place against the Trump campaign, and that he doesn't buy former FBI officials' version of how the collusion investigation began."
Scientific American, the Oldest US Monthly Magazine, Issues Severe Warning on 5G – by Terrence Newton – https://www.wakingtimes.com/2019/10/24/scientific-american-the-oldest-us-monthly-magazine-issues-severe-warning-on-5g/ – "Of particular significance is the fact that SciAm is the oldest continuously published monthly magazine in the United States, founded by inventor and publisher Rufus M. Porter in 1845, and running monthly since 1921. It is a highly influential publication, widely reputed for its rigorous scientific standards, and lauded by today's fact-checkers as highly credible and staunchly pro-science… In the article, University of California, Berkeley public health researcher Joel M. Moskowitz argues that 5G, along with previous w-fi and cellular technology, is much more harmful than the government and telecomm industry wants the public to believe."
Is PG&E Causing the California Wildfires? (5 min)
PG&E Weekend Power Outage: Santa Cruz County Asked To Prepare – by Toni McAllister – https://patch.com/california/santacruz/pg-e-weekend-power-outage-santa-cruz-county-asked-prepare – "Residents and businesses in Santa Cruz County are being advised of a possible Public Safety Power Shutoff this weekend due to severe wind that's forecast to hit the area beginning Saturday about 6 p.m. and running through approximately 2 p.m. Monday." – Comment: It's amazing to me that the Ministry of Weather knows so accurately just when these dangerous winds will be coming. Nothing seems any different than it was for decades in California, when these extraordinary measures were not necessary. Yet, PG&E seems to be almost psychic in anticipating the onset of the now ubiquitous California fires…
Trump and NY Times Admit US Imperialist War in Syria – by Finian Cunningham – https://www.strategic-culture.org/news/2019/10/25/trump-and-ny-times-admit-us-imperialist-war-in-syria/ – "This is no doubt what Trump meant when he alluded to "securing the Oil" in Syria. In that way, President Trump and the NY Times are admitting that the real purpose of American military being in Syria is for imperial conquest… A cruel twist is that Syria needs to harness its oil in order to reconstruct from a war launched covertly on that nation by the US and its NATO partners back in 2011. Now, with sickening vindictiveness, the US seems intent on preventing Syria utilizing its own vital oil resources for recovery, by planning an illegal American military occupation of eastern Syria indefinitely… Many astute observers of the eight-year in Syria always knew that Washington's agenda was regime change and that its anti-terror claims were a fraudulent pretext. Now we have the US president and America's leading newspaper owning up to the criminal occupation of Syrian territory and a land grab for oil."
Kincade Fire grows to 21,900 acres, 5% contained 9:45 AM – by Amy Graff and Chris Preovolos – https://www.sfgate.com/bayarea/article/Kincade-Fire-Geyserville-evacuations-Sonoma-County-14558943.php – "Kincade Fire rages overnight, 49 structures destroyed 8:40 AM… Outage latest: Parts of Sonoma, Napa counties still without power… Kincade Fire sends PG&E stock reeling, may not recover 9:18 AM… Map: Kincade Fire burning in north Sonoma County 7:22 AM"
Breggin: The Most Important Video We Have Ever Watched! – by Peter and Ginger Breggin – http://truthstreammedia.com/2019/10/25/breggin-the-most-important-video-we-have-ever-watched/ – "Will they succeed in getting the FDA to cooperate with their grand plans? This is the same FDA Medical Devices division that tacitly approved lobotomy and psychosurgery by never lifting a finger to have it controlled. It is the same FDA division that finally after 80 years took action aimed at electroconvulsive therapy (ECT) this year by officially approving it for the first time… If the FDA can approve something as grossly brain damaging as ECT—knocking people out with jolts of electricity through their brain causing a severe convulsion, putting them into a coma, flatlining their brain waves, and having them come awake with a severe traumatic brain injury (TBI)—the agency will have no trouble approving "little tiny wires you can barely see" stuck in our brains."
Pentagon to Test 5G at 4 U.S. Bases Despite Warnings From Security Experts, The U.S. Navy, NASA, Doctors, Engineers, Environmentalists, Meteorologists, and More – by B.N. Frank – https://www.activistpost.com/2019/10/pentagon-to-test-5g-at-4-u-s-bases-despite-warnings-from-security-experts-the-u-s-navy-nasa-doctors-engineers-environmentalists-meteorologists-and-more.html – "The Defense Department will soon begin prototyping and testing 5G technology at a handful of its bases, and it's looking to industry for help… On Wednesday, the Pentagon announced that in the coming months it will kick off a "large-scale" effort to explore various applications of 5G technology. The program will initially focus on three different 5G use cases and take place across four yet-unnamed domestic military installations… 'This is really part of a bigger strategic push,' Porter said Wednesday on a call with reporters. 'We have to acknowledge that together we need to work that out—industry needs access to spectrum, DOD needs access to spectrum. It's essentially a call to action, saying 'let's get serious about figuring out how to do this together.'.. The department has already consulted the telecom industry on the initiative, Porter said, and officials used their input to inform the program's initial design… 'We wanted to make sure we understood what the challenges were and how we could collaborate,' Porter said during the call. 'This is one of those areas where commercial industry is really leading the charge. The [department] wants to be able to work with industry and … think about how we can influence security, standards and things like that.' "
Re: the "Official Story" some believe regarding "Q"s assertions that Julian Assange is under U.S. "White Hats" protection: A friend sent me an email the other day to the effect that an "Official Pentagon Source," Gen. Paul Vallely had come out claiming authoritative knowledge that "Q" is an actual, highly placed Pentagon asset, and that all the stories "are true." My reply to this email (link to Vallely audio included) is below:
Subject: Q-Anon Info Source Identified! – (my reply): General Paul Vallely is an associate of Col. Michael Aquino (retired). This guy is beyond dicey. "Admitting" that "Q" is "real" can ONLY be a psychological operation, Vallely's career specialty. In 1980, Vallely co-authored a Pentagon document, "From Psyop to MindWar: The Psychology of Victory" with Aquino, who was under his command at the time at The Presidio in San Francisco, where Aquino was part of a child-trafficking ring. A copy of this pdf is attached… I'm sorry to see that this woman, Cindy Kay Currier, who doesn't identify herself on her new channel here, has become a dupe of this kind of psyop.   –Bruce
On 10/21/2019 11:52 AM, (my friend) wrote:
> I listened to this to evaluate it.  Only 9 minutes.  It seems this general is either ignorant, taken in by Q or a plant.  Pick your choice.
> G
>
> https://www.youtube.com/watch?v=WaUOjWdZRpY
Only Cowards and Sadists Support the Persecution of Assange – by Caitlin Johnstone – https://www.strategic-culture.org/news/2019/10/23/only-cowards-and-sadists-support-the-persecution-of-assange/ – Former British ambassador Craig Murray has published a very disturbing account of Julian Assange's court appearance yesterday – https://www.craigmurray.org.uk/archives/2019/10/assange-in-court/ – which I recommend reading in full. There have been many reports published about Assange's case management hearing, but the combination of Murray's prior experience with torture victims, his familiarity with British courts, his friendship with Assange, and his lack of reverence for western power structures allowed for a much more penetrating insight into what happened than anyone else has been able to provide so far. –
U.S. To Send Troops, Battle Tanks To "Secure" Syrian Oil Fields – Report – https://southfront.org/u-s-to-send-troops-battle-tanks-to-secure-syrian-oil-fields-report/ – "The U.S. is planning to deploy fresh troops and battle tanks to Syria's northeastern oil fileds, Newsweek reported on October 23, citing an official in the Pentagon… The unnamed official told the magazine that the U.S is seeking to deploy half of an Army armored brigade combat team battalion that includes as many as 30 Abrams tanks alongside personnel to key oil fields in northeastern Syria. According to the official, the plan is pending White House approval… Northeastern Syria oil fields, including al-Rmelan and al-Omar, are controlled by the Kurdish-led Syrian Democratic Forces (SDF). The official said that these forces will continue to be involved in securing these oil fields, the official said… When asked by Newsweek about the oil situation, one senior administration official said that the final fate of these resources was yet to be determined: 'The President has stated that we are going to have a residual force in the region to protect areas that hold the oil fields, as well as the base down at al-Tanaf, in southern Syria. Those are important areas to allow us to constrain the resurgence of ISIS. And there is some artillery benefit, of course, to Kurds and other Democratic Forces being in control of the oil,' the official said. 'As far as how the oil will be sold and that sort of thing, that's something that we'll certainly look into and we'll monitor going forward. And we'll keep a close eye on that.' "
Court Forces 7-Year-Old Boy to Begin Sex Change – Against Father's Pleas – Court ordered child abuse – by Alice Green – http://punchingbagpost.com/2019/10/24/court-forces-7-year-old-to-begin-sex-change-against-fathers-wishes/ – "Life as normal ended this week for 7-year-old James Georgulas when a jury voted 11-12 against his father, who sought sole custody of his son to avoid a plan to begin sex change therapy… The sex change will be facilitated by the boy's mother, Dr. Anne Georgulas, who believes her son's childish notion of turning into a girl named Luna is a good idea."
Russian Defense Minister And SDF Chief Discuss Turkey-Russia Agreement For Northern Syria – https://southfront.org/russian-defense-minister-and-sdf-chief-discuss-turkey-russia-agreement-for-northern-syria/ – "On October 23rd, Russian Defense Minister Sergei Shoigu held talks with the commander of the Kurdish Syrian Democratic Forces (SDF) Mazloum Abdi… They discussed the implementation of activities under the memorandum concluded by the heads of Russia and Turkey in Sochi. Abdi expressed gratitude to the Russian leader Vladimir Putin for the safety of the Kurdish formations and for contributing to a peaceful settlement of the difficult Kurdish-Turkish issue… Shoigu emphasized that civilians living in a 30-kilometer strip from the Syrian-Turkish border do not need to leave their homes, the military police units of the Russian Federation and the Syrian border guards will serve as a guarantee of their safety… 'Currently, units of the Russian military police and regular Syrian troops are deployed in many areas. We give them all kinds of help and support,' the statement cited Mazloum Abdi as saying."
Islamic State in Asia: 'Unintentional' Consequences of Turkey's Syria Operation – by Paul Antonopoulos – https://www.globalresearch.ca/islamic-state-asia-consequences-turkey-syria-operation/5692766 – "With these deep relations between Islamic State and Turkey, there is little chance that Turkey will prevent terrorists from escaping prisons formerly controlled by the YPG. These radical fighters would be seeking a new jihad, and with over 60 jihadist groups in Southeast Asia, and showing a lot of potential as the Sri Lanka attacks and the invasion of Marawi demonstrates, this could be the next location for the international terrorists to conduct their jihad. This would not be an inevitable consequence of Turkey's operation in northern Syria, but rather a known fact by the Turkish leadership. To what purpose Turkey is doing this is unknown, but there is little doubt it will have devastating affects on Southeast Asia as these Islamic State fighters bring with them a vast wealth of knowledge and experience from fighting in Syria that can embolden jihadists across the region."
The Russian-Turkish Deal on Syria: Who Won and Who Lost? – by Andrew Korybko – https://www.globalresearch.ca/russian-turkish-deal-syria/5692838 – "Therefore, an assessment of the Sochi Agreement reveals that while it's a huge victory for Turkey, it's not necessarily a "loss" for Syria even if it does indeed represent a dramatic climbdown from what President Assad had vowed to do earlier that day. Ankara "compromised" by receiving the breadth of what it wanted but only one-third the depth, while Damascus' "compromise" was to "fully support" President Putin's promise that it would actively facilitate the disarmament and removal of its new Kurdish "allies" in exchange for being allowed to jointly patrol part of the international frontier together with the Russian military police… The militant Kurds, however, are definitely the losers after having their fate decided for them by Moscow and Ankara. While their separatist dreams are shattered and they'll be unable to pose a credible terrorist threat to Turkey following the successful implementation of the Sochi Agreement, Russia might proverbially throw them a bone by "encouraging" Syria to "seriously consider" granting them some level of "autonomy" in the Northeast in exchange for all the concessions they were forced to undertake after being abandoned by the US earlier this month. If that happens, then this scenario could possibly stop them from being "sore losers" and spoiling the complex peace process."
From the One-For-The-Good-Guys Desk:Turkey Says No Need To Launch Another Operation Against Kurds For Now – https://www.rferl.org/a/turkey-s-erdogan-visits-putin-for-syria-talks-as-u-s–brokered-cease-fire-is-set-to-expire/30229111.html – " 'At this stage, there is no further need to carry out a new operation," the Defense Ministry said late on October 22 in a statement, as cited by AFP… The news comes after Russian President Vladimir Putin and Turkish President Recep Tayyip Erdogan met for six hours the same day in a private meeting at the Black Sea resort of Sochi."
Russian Helicopters Arrive At Syrian Airbase Freed From US Military (Video) – https://southfront.org/russian-helicopters-arrive-at-syrian-airbase-freed-from-us-military-video/  – Comment: Syrian Arab Army, invited to reoccupy their Airbase by the Kurds, welcome the Russians arrival.
Video Comparison: How Locals React To US And Russia Troops In Northeastern Syria – https://southfront.org/video-comparison-how-locals-react-to-us-and-russia-troops-in-northeastern-syria/
The House Votes in Favor of Disastrous Copyright Bill – by Katharine Trendacosta – https://www.activistpost.com/2019/10/the-house-votes-in-favor-of-disastrous-copyright-bill.html – "Not Too Late: The Senate Can Still Stop the CASE Act… The House of Representatives has just voted in favor of the Copyright Alternative in Small-Claims Enforcement Act (CASE Act) by 410-6 (with 16 members not voting), moving forward a bill that Congress has had no hearings and no debates on so far this session. That means that there has been no public consideration of the serious harm the bill could do to regular Internet users and their expression online… The CASE Act creates a new body in the Copyright Office which will receive copyright complaints, notify the person being sued, and then decide if money is owed and how much. This new Copyright Claims Board will be able to fine people up to $30,000 per proceeding. Worse, if you get one of these notices (maybe an email, maybe a letter—the law actually does not specify) and accidentally ignore it, you're on the hook for the money with a very limited ability to appeal. $30,000 could bankrupt or otherwise ruin the lives of many Americans."
From the We-Don't-Have-To-Care Desk: Rejecting Challenge to No Fly List, Federal Appeals Court Leaves Men Charged With No Crime "In an Indefinite Kafkaesque Nightmare" – by Andrea Germanos – https://www.activistpost.com/2019/10/rejecting-challenge-to-no-fly-list-federal-appeals-court-leaves-men-charged-with-no-crime-in-an-indefinite-kafkaesque-nightmare.html – "A ruling by a federal court Monday drew the ire of the ACLU after siding with the U.S. government and rejecting a challenge brought by four U.S. citizens over their inclusion on the No Fly List, thus leaving the men, according to the civil liberties group, 'in an indefinite Kafkaesque nightmare.'.. Inclusion on the secret database—which represents part of the government's terrorism watchlisting system—means a person is blacklisted as a suspected terrorist and banned from flying into, within, and from the United States."
The Left Loses its Mind in Jails Debate – by Micah Morrison – https://www.judicialwatch.org/investigative-bulletin/the-left-loses-its-mind-in-jails-debate/ – "Ideas have consequences and yesterday in New York City arrived more evidence that progressive forces in Gotham have lost their collective mind. The New York City Council voted to close the 400-acre Rikers Island jail complex. Keeping violent criminals off the streets? Future crime waves? Never mind, they'll figure that out later… But the Manhattan Institute's Rafael Mangual points to some contradictory evidence. De Blasio's 2017 Mayor's Management Report says the recent decline in jail population is due to his administration's 'successful efforts to divert low-risk, non-violent offenders from our jails' and notes that those 'who remain [in jail] tend to be more violent and difficult to manage.'… 'It does indeed seem to be the case,' Mangual writes, 'that the current residents of Rikers Island are, in large part, the worst of the worst.' They're 'violent and difficult to manage,' in the words of the mayor's own report. Mangual asks: can the Rikers population really be reduced by several thousand more "without those very inmates being left to roam the streets?"
Two Proud Boys Sentenced to Four Years in Prison Each for Fighting Back Against Antifa – by Cassandra Fairbanks – https://www.thegatewaypundit.com/2019/10/two-proud-boys-sentenced-to-four-years-in-prison-each-for-fighting-back-against-antifa/ – " 'This was a nothing burger on the night of Oct. 12th. The next morning, de Blasio and Cuomo saw it as an opportunity to paint Trump supporters as violent hate gangs. They took it and everyone jumped on board because they hate Trump too,' McInnes said. 'The AG, the media, even the top brass of the NYPD. They all saw this opportunity to portray Trump suporters as brownshirts.' "
From the Catapulting-The-Propaganda Desk: As waters rise, so do concerns for sports teams along coast – One franchise's challenge: Amid rising sea levels, build a stadium to last 100 years – https://www.washingtonpost.com/sports/2019/10/16/waters-rise-so-do-concerns-sports-teams-along-coast/ – "Marlins Park opened in 2012 with a price tag of $634 million. The Dolphins are paying $350 million for a renovation of what's now called Hard Rock Stadium. Inter Miami FC, a Major League Soccer expansion team that begins play in 2020, is hoping to build a 25,000-seat stadium near the airport… Henry Briceño, a research professor at Florida International University's Center for Aquatic Chemistry and Environment, called the continued growth in the region "craziness.".. 'Do these people know that they're building on the future Atlantis?' he said."
San Mateo, Napa, Sonoma Counties In PG&E Power Shutoff Zone – The company issued warnings Monday to 200K Customers in 15 counties – by California News Wire Services – https://patch.com/california/santacruz/s/gvw67/pg-e-power-shutoffs-possible-in-much-of-bay-area-this-week – "SAN FRANCISCO, CA — PG&E Monday afternoon gave a 48-hour notice to approximately 209,000 customers in 15 counties in the Sierra Foothills, North Bay and Peninsula of a possible Public Safety Power Shutoff starting late Wednesday evening."
MUST SEE VIDEO: Climate Change Geeks Stop Train, Hang Banner in London — Morning Commuters Drag Them Off Train and BEAT THE HELL OUT OF THEM! – by Jim Hoft – https://www.thegatewaypundit.com/2019/10/must-see-video-climate-change-geeks-stop-train-hang-banner-in-london-morning-commuters-drag-them-off-train-and-beat-the-hell-out-of-them/ – "This morning, angry Londoners rebelled against the @ExtinctionR climate change activists who shut down the Tube by climbing on top of a train and unfurling a banner that read: "Business as usual = death." Watch as angry passengers drag them off. #ExtinctionRebellion"
Roota's Timeline Update #6 – The Next Trigger! (23 min) – A Great Explanation by Bix Weir of the ongoing stealth bailout of stressed-out banks by the "Repo" and Term-Loans happening now.
Trump May Leave Small Garrison Of US Troops To Guard Syrian Oil Fields – by Tyler Durden – https://www.zerohedge.com/geopolitical/pentagon-may-leave-some-troops-syria-guard-oil-report – "Update (1215ET): While President Trump confirmed earlier that there was "no need" to leave troops in Syria, he quickly restated his comments, in line with Esper's earlier remarks, saying that he would work something out to provide the Kurds with cash, perhaps through the involvement of a U.S. oil company… 'We've secured the oil,' he said, adding that he's willing to leave US troops in Syria to secure the oil (and in a second region, due to requests from Jordan and Israel)."
US troops from Syria do not have permission to stay in Iraq: military – https://www.almasdarnews.com/article/us-troops-from-syria-do-not-have-permission-to-stay-in-iraq-military/ – "U.S. forces that crossed into Iraq as part of a pull-out from Syria do not have permission to stay and can only be there in transit, the Iraqi military said on Tuesday… U.S. Defense Secretary Mark Esper said, however, that Washington aimed eventually to bring the troops withdrawing from Syria back to the United States… The Iraqi military statement contradicted the Pentagon's announcement that all of the nearly 1,000 troops withdrawing from northern Syria are expected to move to western Iraq to continue the campaign against Islamic State militants and 'to help defend Iraq.'.. 'All U.S. forces that withdrew from Syria received approval to enter the Kurdistan Region so that they may be transported outside Iraq. There is no permission granted for these forces to stay inside Iraq,' the Iraqi military said." – Comment: Good luck with this…
In Video: Syrian Army Escorting US Troops Out Of Country – https://southfront.org/in-video-syrian-army-escorting-us-troops-out-of-country/ – "Meanwhile, thankful locals are throwing stones and fruits at a Us military convoy in the city of Qamishli."
Russia Moderates Turkish-Syrian Dialogue Over Northeastern Syria – https://southfront.org/russia-supports-turkish-syrian-dialogue-over-northeastern-syria/ – "Maria Zakharova:  I can once again highlight the statement made by Sergey Lavrov. He said Russia strongly advocates resolving the current situation through a dialogue between the Government in Damascus and the Kurdish forces. As you know, this dialogue has begun and is already yielding certain results. He also emphasised that Russia has always recognised Turkey's legitimate interests in the security of its borders. At the same time, we stand for practical cooperation  between Damascus and Ankara on the basis of the 1998 Adana Agreement. We absolutely clearly see the possibilities for this. The two countries' military officials should determine the specific aspects of their interaction on the ground. Russia, for its part, is ready to assist them in such a dialogue."
Ready to Pay $30,000 for Sharing a Photo Online? The House of Representatives Thinks You Are. – by Ernesto Falcon – https://www.activistpost.com/2019/10/ready-to-pay-30000-for-sharing-a-photo-online-the-house-of-representatives-thinks-you-are.html – "The CASE Act creates a new tribunal separate from the federal judiciary (this is part of the constitutional problem) and places it within the Copyright Office. This agency has a sad history of industry capture, and often takes its cues from major content companies as opposed to average Americans. The new tribunals will receive complaints from rightsholders (anyone that has taken a photo, video, or written something) and will issue a "notice" to the party being sued… We don't actually know what this notice will look like. It could be an email, a text message, a phone call with voice mail, or a letter in the mail. Once the notice goes out, the targeted user has to respond within a tight deadline. Fail to respond in time means you'll automatically lose, and are on the hook for $30,000. That's why EFF is concerned that this law will easily be abused by copyright trolls. The trolls will cast a wide net, in hopes of catching Internet users unaware. Corporations with lawyers will be able to avoid all this, because they'll have paid employees in charge of opting out of the CASE Act. But regular Americans with kids, jobs, and other real-life obligations could easily miss those notices, and lose out."
Assange Denied Request To Delay Extradition Hearing; Prepares To Fight 'Unprecedented' Charges – by Tyler Durden – https://www.zerohedge.com/geopolitical/assange-denied-request-delay-extradition-hearing-prepares-fight-unprecedented-charges – "After his request was denied, Baraitser asked if Assange understood the events in court, to which he replied: 'Not really. I can't think properly.'.. 'I don't understand how this is equitable. This superpower had 10 years to prepare for this case and I can't access my writings. It's very difficult where I am to do anything but these people have unlimited resources,' Assange continued. 'They are saying journalists and whistleblowers are enemies of the people. They have unfair advantages dealing with documents. They [know] the interior of my life with my psychologist. They steal my children's DNA. This is not equitable what is happening here.'.. Approximately 100 activists protested outside, chanting "Free Julian Assange" and "No extradition, there's only one decision."